I am pleased to announce the first "Give Away" here at Snap and Scrap by Amy Mallory. My passion consists of photography, scrapbooking, and graphic arts all combined into one. So you know I had a blast while making these Save the Date cards from my latest engagement session. I spent Saturday evening with the sweetest couple and I'll show you some of my favorite photos here on my blog real soon. If you just can't wait to see them - check them out at my photography website
snapandscrapbyamymallory
. When you enter the site find the tab with the name Anna and Brett. I love watching the photos set to music. I just get all teary eyed no matter how many times I watch. There is something so special about capturing "love" on film.
Okay - back to the give away. I made several examples for Anna and Brett for their Save the Date Cards. I am so curious as to which one they will choose. I want to see what you all think. If you choose the card that Anna and Brett choose - you will be entered 3 times into the drawing. If you make a choice you still get your name entered once just for playing. The winner will receive an 8 x 10 print that I just ordered from Etsy Shop,
hellopeanutprints
. * Note - it will be framed in a white wooden frame! As you can see, this quote from Winne the Pooh can be used for a child of any age - not just for nurseries. So leave a comment here and make your choice on the "Save A Date" Cards. Also please follow my blog. I would love to share so many things with you and I plan on having frequent give aways!!! Thanks in advance for playing along in this first one. I will announce the winner in the middle of next week.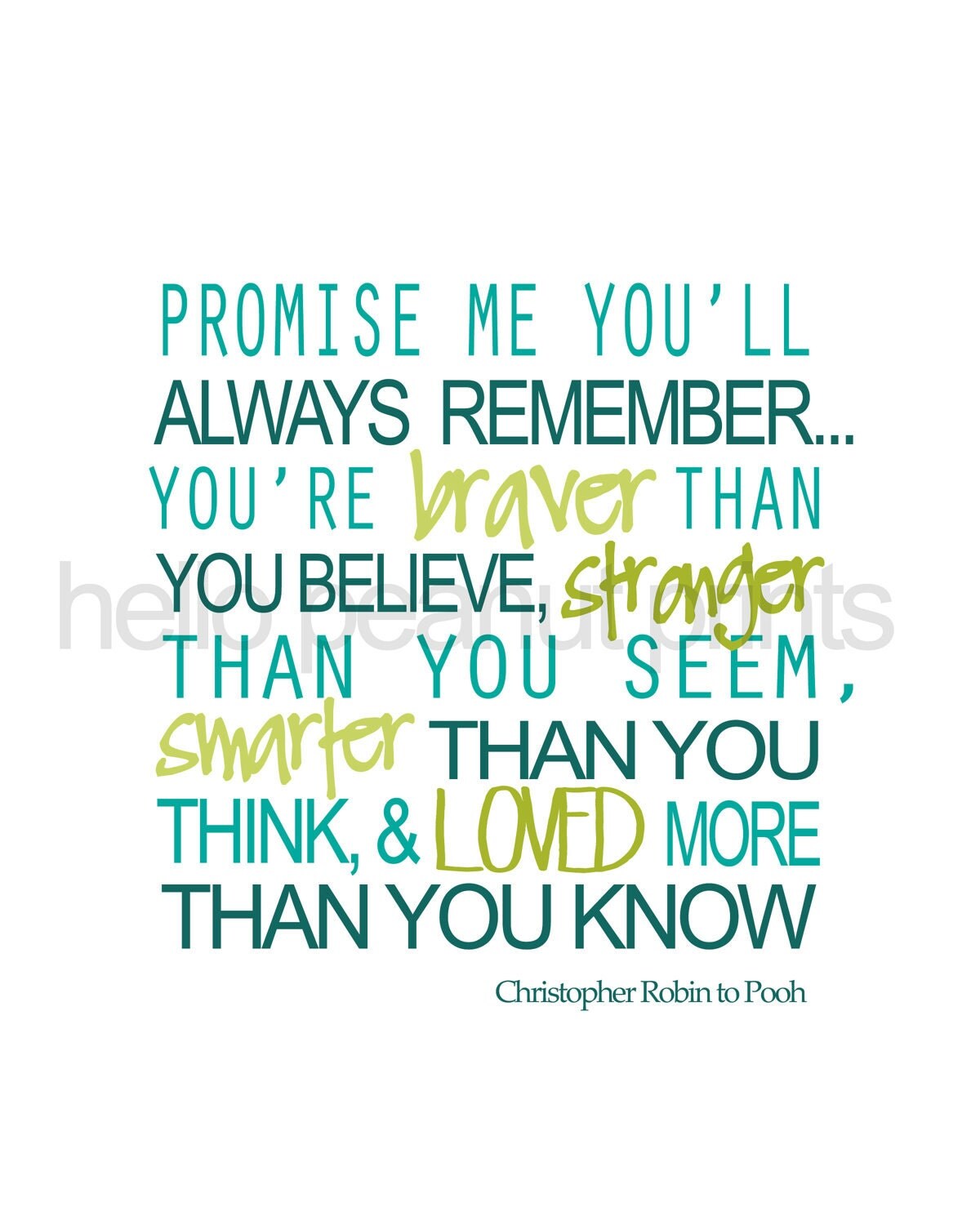 and now the cards...
1. Embrace - inspired by Design Seeds. I love all the color palettes that they put together. I put together my own palette from this photo. The photo shoot was out in the country and we used apples in several of the photos. This is one of my favorites!
2. In the Field - Anna and Brett were running through the field when I took this photo and I had no intention of using it for a save the date card.... but when I added a digital banner I thought it was great!
3. Hands - A fun pose for save the date. I could have brought a sharpie to the shoot, but it was just as easy to add the date in Photoshop. :)
4. Date Banner - My boys loved watching me paint these letters red the day before the shoot. My sweet Joe even said, "Hey girl - I like it when you have a little paint stain on your jeans."
5. Date Banner 2 - so sweet with a little kiss!
So which one do you think they will choose? Leave me a comment and your name will be entered for the give away! I am so excited!!! :)

**These cards were made with supplies from Designer Digitals. They were just pure FUN to create for Anna and Brett. I just love to create and I can't help myself. These would not be available for customers to purchase. They were only made for my friends as a gift.